Finally, an Innovative Partition Set Specially Designed to Reinforce Box Handholes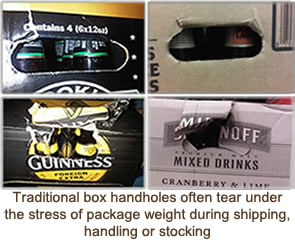 Now you can protect your box handles from tearing and your products from breaking with revolutionary StrongHold™ partitions. Glass-packaged beverages - beer, wine, sparkling water, liquor - and other fragile products require partition set inserts to separate and protect them during shipping. For easy handling, the boxes used to package these products often feature handhole cutouts on two sides. Unfortunately, these cutouts are rarely strong enough to withstand the stress induced by the package weight and frequently tear when lifted. The result? Damaged boxes and products, unappealing retail displays, dissatisfied customers and costly damage claims ...BUT NOT ANYMORE!
Watch our product demo to see what separates
StrongHold™ partitions from all the rest!
No More Tearing Handholes...No More Dropped Boxes...No More Costly Damage Claims...
Unlike traditional partition sets, StrongHold™ helps eliminate torn handholes once and for all. Its patent-pending design features added extension panels with custom cutouts that align precisely with box handholes. Simply insert the partition into the box and pop it open... StrongHold™ does the rest. The unique "dual panel" action instantly reinforces box handholes so they won't tear under the stress of package weight when lifted. Since workers can secure a stronger, more reliable grip on the box, the contents won't break, enabling box and product to arrive at their destination in ideal condition.